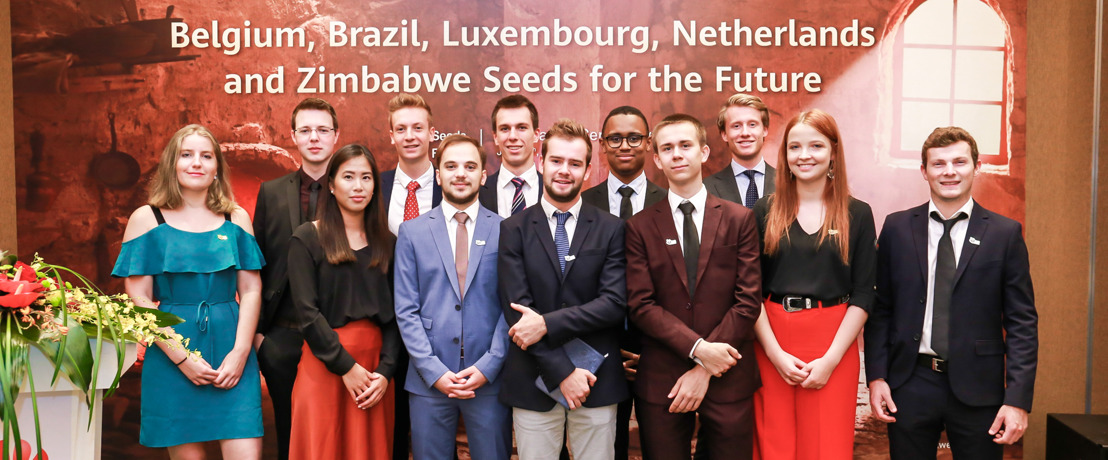 Huawei Belgium launches seventh edition of 'Seeds for the Future' programme for emerging IT talent
Brussels - 21 October 2020. For the seventh year in a row, Huawei is inviting students from five Belgian universities to take part in Seeds for the Future – its flagship scholarship programme designed to develop the ICT talent of tomorrow. This year's Seeds for the Future is set to take place virtually from 26 to 30 October 2020.
As a global player in the technology sector, Huawei is committed to giving young people with a passion for technological innovation the opportunity to learn from global experts, through a unique study experience which connects Europe and China.
The program was launched in Europe in 2011, and every year since 2014 Huawei Belgium has invited students to participate in Seeds for the Future, with a strong focus on supporting the development of ICT talent and addressing the digital skills gap in Europe.
World turned virtual
The last few months have highlighted the importance of technology and innovation in the sector, as the world turned virtual. With younger generations facing unprecedented disruption to their education and entry to the workforce, it is more important than ever to support students and give them the opportunity to further develop their technological talents.
This year, to ensure the safety and health of all participants, Seeds for the Future is going virtual. Over the space of five days, the selected students will be immersed in both Chinese language and culture and the latest ICT innovations through various online modules, live sessions and workshops.
Together with in-house experts and partners, participants will delve deeper into innovative technologies such as 5G, cloud computing and AI, and share insights on topics such as cybersecurity and digital transformation.
Attract new talent to the sector
"Whether it's Brussels or Beijing, over the last year, we've seen just how important modern technology is to keep people and societies connected all over the world," says Hannes Van Raemdonck, Director of Public Affairs.
"At Huawei, we want to share our passion for innovation and the technology of tomorrow with these young people, and attract new talent to the sector in the process. We're very happy to continue to offer this unique opportunity to a new cohort of Belgian students, allowing them to share their passion and learn from global experts."
Through this programme, Huawei aims to reach students from technology-related disciplines who, in addition to their studies, also have a pronounced interest in everything to do with telecoms and technology in a broader context.
108 participating countries worldwide
Huawei's Seeds for the Future programme currently covers 108 countries around the world.
In Europe alone, 31 countries are involved, and more than 1300 students have participated in the programme since its European launch in 2011.
In Belgium, more than 50 students have already benefited from the programme since its first edition in 2014.
---
Steven Van de Broek PR Consultant, Current Global